STEP ARM3500 Fully Automatic Arm Wrapper is an Automatic Rotary Arm Wrapper, equipped with a Fastening System, a Toothed Crown that enables the machine to Rotate at a higher speed reinforced by Pillars and a 3rd Larger that stabilizes and supports the upper structure. Rotating Arm turns around the unstable load, heavy & high output demands, ensures stability and efficiency.
Features:
Durable Design for its flexibility, durability and efficiency

"M" Film Pre-Stretch of the Wrapping inside the Film Carriage increases its wrapping strength therefore securing the product even more.

3 All System has integrated 3 external mechanical devices into 1 single unit. From Clamping, cutting and dolly heat sealing, no Minimum wrapping Height

Powered film reel holder

Rotary arm transmission, sprocket.

Motorized Film Carriage

Turning Arm with Soft Start/Stop and Variable Speed

Acoustic & Luminous Warning System during operation and anomalies

Control Panel is PLC and LCD Touch Screen for Control Panel

Central Motorized Conveyor included

Load and Height detection by Photocell

10 Storable Programs for wrapping speed and no. of wraps

Compliance to CE Regulations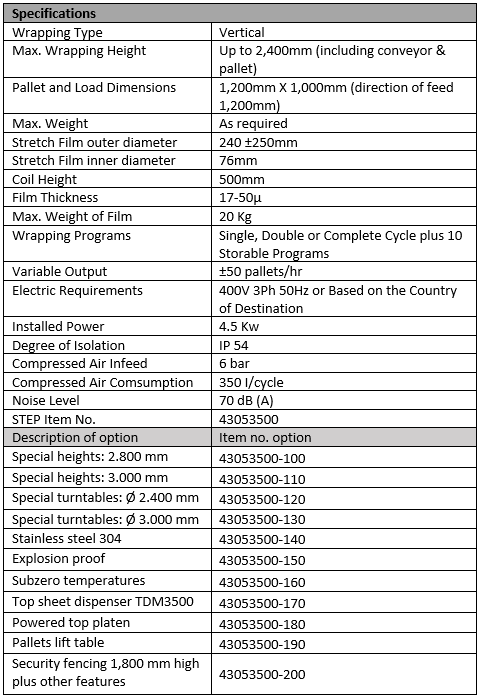 Options
Special heights: 2.800 mm, 3.000 mm.

Special turntables: Ø 2.400 mm, Ø 3.000 mm.
 Versions
Stainless steel 304

Explosion proof.

Subzero temperatures.
 Accessories
Top sheet dispenser TDM3500.

Powered top platen.

Pallets lift table.

Security fencing 1,800 mm high with access door and anti-intrusion photocells input and output load included mutting.
10 other products in the same category