A versatile Fully Automatic Turntable Wrapper has a Base with Turntable powered by a Roller Conveyor and a Mast where the Film Carriage Set and Electrical Cabinet is located. Equipped with in and out signals for connection to a chain or roller conveyor, can wrap any type of load regardless of its characteristics.
Features:
Durable Design
-Designed for its flexibility, durability and efficiency
"M" Film Pre-Stretch
-"M" Movement of the Wrapping inside the Film Carriage increases its wrapping strength therefore securing the product even more.
3 All System
- Has integrated 3 external mechanical devices into 1 single unit. From Clamping, cutting and dolly heat sealing, no Minimum wrapping Height
Belt Drives
-Belt drives are used instead of gears, lesser noise and lesser risks of trapping
Gear Ring
-Results in a more silent operation, increased Load limit and enhances versatility
Touch Screen
-All possible parameters are programmed as well as movements and interphases.
Electronic Control
-Wrapper is controlled by PLC with Standard LCD Display, offers ease of doing future modifications on machine and easy repair & maintenance.
Electric Cabinet
-Located at the back of machine mast to integrate all interconnections and ease of transport. Has enough room to do wiring for additional interconnections and modifications.
Frequency Inverters
-Used for critical motions resulting in smooth and soft actions, prevents sudden jerks at start and stop.
Slip Ring
-Used to ensure long lasting use of tracks, prevents dust to accumulate in tight enclosures.
CE Norms Compliant
-Meets CE norm requirements, machine is fitted with central safety switch with visual and sound alarm warnings.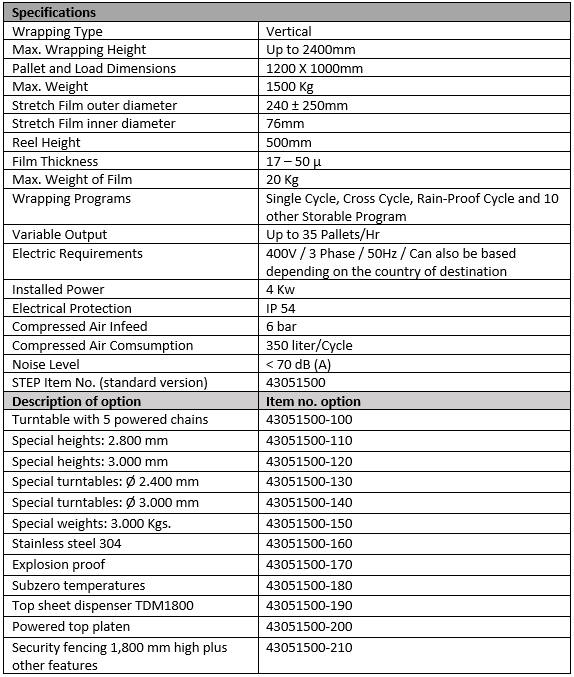 Options:
Turntable with 3 – 5 Power Chains
Specials Heights 2800mm – 3000mm
Special Weights 3000 Kg
Special Turntable: 2400mm – 3000mm
Accessories:
Top Sheet Dispenser TDM1800
Powered Top Platen
Powered "M" Pre-Stretch
Powered Rollers Conveyors
Powered Chains Conveyor
Security Fencing with anti-intrusion features
Versions:
Stainless Steel 430, 304
Explosion Proof
Subzero Temperature