Cheapest Way To Ship Small Packages from China
China Post Group

China Post Group (CPG) is a large-scale enterprise which has subsidiaries like: China Post Life Insurance Corporation Limited, Postal Savings Bank Ltd. Co. of China, and the China Postal Business. It is primarily owned by the public. This Group participates in a postal business in accordance with the laws of China and provides postal service worldwide.

CPG provides the following products and services for the masses:
• Local and international mail sending
• Express sending of postal mails
• Postal financial services
• Logistics
• Distribution of newspapers, journals, and books
• Issuance of stamps
• Creation and selling of Philatelic collections
• Remittance Services
• Confidential Post Statements
• E-Businesses and Postal Agency Businesses
• Others legalized by the state

CPG co-established China Postal Express and Logistics, and from the China Post website, logistics and EMS could be found, directing to yet another website of EMS Worldwide Express Mail Service. Link for EMS is: http://www.ems.com.cn/aboutus/e_gong_si_jian_jie.html
Why Ship with CPG?

Cost. CPG as elaborated above has port mail and parcel delivery services within China and Internationally. This has been a company by the people hence does not cost much which speaks a lot as a shipping industry.

Items. Transport with CPG may vary wide from letter post items, postcards, aerogramme, printed matters, literature for the blind, small packets, and M bags.

Worldwide Coverage. Delivery of letters and small parcels could go global. CPG grouped such regions into four, namely: First, Second, Third, and Fourth group. Each of the group consist of countries, listed as:
• 1st – Asia, neighbor countries (DPR of Korea, Mongolia, Vietnam, Japan, Rep. of Korea, Kazakhstan, Tajikistan, Uzbekistan, Turkmenistan)
• 2nd – Other Asian Regions
• 3rd – Countries and regions in Europe, the US, Canada, Australia, New Zealand
• 4th – Other countries and regions in America, countries and regions in Africa, the Pacific Islands

Parcel Weight. Weight of 500g is standard and another 500g has additional cost.

Tracking. Tracking of delivery is simple via online tracker.
Link for Express Shipment: http://www.ems.com.cn/mailtracking/e_you_jian_cha_xun.html
Link for Logistic Shipment: http://www.ems.com.cn/ems/logistics/searchE
Other tracking methods available are direct phone hotlines 8610 11183, direct counter on post office where item was dispatched. Tracking is charged if fax or copy is needed around RMB 3. Tracking shipment is valid for one year after posting date and 4 months validity for international shipment tracking.
Phone Numbers on Customer Support:

Postal Business : 8610 11185
Postal Savings : 8610 95580
Logistics and EMS : 8610 11183
China Post Life : 8610 4008909999

General Information of CPG:

Address: No.3 Financial Street, Xicheng District, Beijing 100808
Email: feedback@chinapost.com.cn

International Charges for Letters-Mail Items

Rates for International parcel shipment may be viewed in chinapost.com, linked http://english.chinapost.com.cn/html1/report/1208/181-1.htm. For EMS Delivery, see http://www.ems.com.cn/serviceguide/zifeichaxun/e_zi_fei_cha_xun.html for the rates. Below is a tabulated cost of delivery fees via chinapost.com.
For Small Pack:
Unit: RMB
| | |
| --- | --- |
| Weight Step | 3rd group |
| Up to 100g | 18.00 |
| AAdditional charge for each 100g or fraction thereof above 100g | 15.00 |
For M Bag:
Unit: RMB
| | |
| --- | --- |
| Weight Step | 3rd group |
| Up to 5000g | 475.0 |
| Additional charge for each 1000g or fraction thereof above 5000g | 95.00 |
For Special Charges:
Unit: RMB
Category

Unit of calculation

Postage

Global priority mail

Small envelope
(Maximum weight: 500g)

40.00

Large envelop
(Maximum weight: 1000g)

70.00

International reply coupon

Per item

12.00

Registration Charge

Per item

8.00

Registration Charge M bag

Per bag

40.00

Insurance charge for insured letter – post time

Per 100 Yuan of insured value or fraction thereof

1.00

Advice of delivery charge

Per item

5.00

Charge for a request for withdrawal from address or the post or alteration or correction of address

Per item

10.00

Handling charge for inward unpaid or underpaid item

Per item

3.00

Per item

3.00

Storage charge

Per item each day

The same with domestic postal items

Presentation – to – Customs charge

Inward parcel, insured letter – post item, printed matter and small packet on which customs charge or other similar charge are payable

8.00

Inward M bags on which Customs charge or other similar charge are payable

40.00

Outward parcel posted at post office without Customs counter

8.00

Insured parcel

Insurance charge

Per 100 Yuan of insured value of fraction thereof

1.00

Commission charge

Per item

8.00
International EMS Guarantee Service
(Taken from: http://www.ems.com.cn/promiseservice/e_guo_ji_ems_shi_xian.html)

China Postal Express & Logistics provides International EMS Guarantee Service for EMS shipments to specified countries and regions. The customer can inquire the end-to-end time limit for shipments and demand a refund for shipments delivered in excess of the promised time for postal reasons.
International EMS Guarantee Service is available for shipment to Australia, Hong Kong, Japan, Korea, USA, UK, Spain and France.

Advantages of the Guarantee Service
1. Extensive coverage: The network terminals of the posts worldwide reach out to the households of hundreds of thousands of customers. Australia Post, China Postal Express & Logistics, Hong Kong Post, Japan Post, Korea Post, USPS, Royal Mail, Correos, La Poste possess over 300 million delivery points, and 140,000 postal outlets. The postal network could provide secure, accurate, and fast delivery services with the widest coverage.
2. Multi-channel information access: CPEL website (www.11183.com.cn), a nationwide unified hotline 11183 with 7 × 24h service and postal offices spreading all over the cities and towns.
3. Real-time track & trace service: Customers could track EMS items in real time through our tracke & trace service. We could provide shipment tracing information in real time to contract customers on our own initiative.
4. Guaranteed delivery time: EMS Guarantee service uses the unique postcode resources and calculates the guaranteed delivery time from postcode to postcode. Guaranteed delivery time is the maximum time span needed for the delivery of the EMS items, thus the actual time can be shorter.
5. Compensation for delay: In the event that the actual delivery time is in excess of the guaranteed delivery time due to service failure, the postage paid shall be returned to customers.

Instructions
1. The customer should write the correct destination zip code in the column of recipient address on the EMS waybill (except shipments to Hong Kong);
2. To obtain more information about the promised time limit or trace the shipment, please log on to this website or call national service hotline 11183. Basic information needed for inquiring guaranteed delivery date: collecting date, origin zip code and destination zip code (except Hong Kong).
3. In case of delayed delivery for guaranteed shipments, the sender can request a refund within 30 days as of the collecting date. The postal service should reply to the request within 7 working days. If the sender raises no claim within the stipulated time, the postal service shall not refund the customer in accordance with the guarantee service regulations. If the postal service takes responsibility for the shipment delay upon verification, the postal fees shall be returned to the sender (excluding packing fee, customs clearance fee and other costs).

Notes
• The calculation of promised time limit is based on the collecting date, origin zip code and the destination zip code (except Hong Kong); the customer thus should provide accurate destination zip code (except Hong Kong) and recipient address for guaranteed shipments; the postal service shall not provide guarantee service to shipments without destination zip code (except Hong Kong).
• Guarantee service is only available in specified areas.
• We shall bear no responsibility for shipment delay in the following cases:
1. The sender fails to write the destination zip code on the required place in the waybill (except Hong Kong);
2. The destination zip code is not covered by the guarantee service or the recipient address and zip code are incomplete or incorrect;
3. The shipment cannot be delivered due to the refusal of the recipient or unknown recipient;
4. The shipment cannot be delivered as scheduled due to the activities of the customs or other similar competent authorities;
5. In case of war, natural disaster and other force majeure
Domestic EMS Waybill Guide
Domestic Express Mail (EMS) Waybill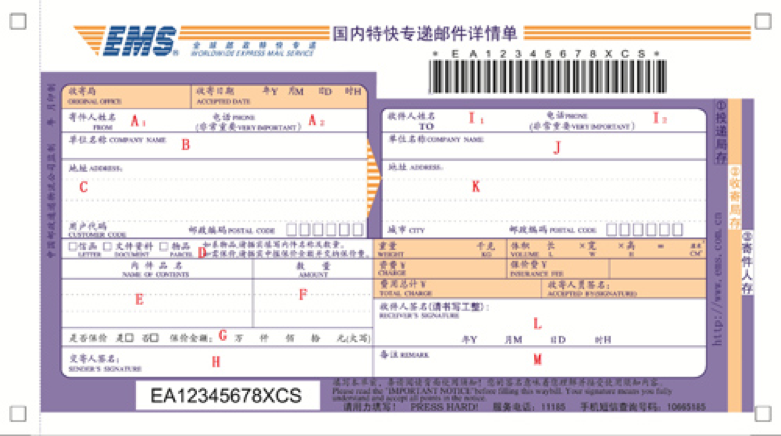 A. Sender's name and phone number: please fill in sender's name and valid phone number.
B. Sender's company name: unnecessary for individual senders.
C. Sender's address: For shipment safety and fast delivery, please write clearly sender's full company or personal address, post code, and account number, if any.
D. Item Type: nature of shipment contents.
E. Item description: full description of shipment contents.
F. Quantity: pieces of contents
G. Insurance: please mark the insurance column with √ or ×. If insurance service is selected, please specify the insured amount, with a maximum of RMB 100,000.
H. Sender's signature: the sender's signature indicates his confirmation of written information and acceptance of customer notice printed on the waybill back.
I. Receiver's name and phone: please fill in receiver's full name and valid phone number.
J. Receiver's company name: write receiver's company name. Unnecessary for private address.
K. Receiver's address: Please fill in complete company or private address, post code and city. (for shipment safety and rapid delivery, please write specifically and accurately)
L. Receiver's signature: sign name (or affix a seal) and fill in receiving date and time. For designated signature (or seal), valid certificate name and number and relations with the receiver should be provided.
M. For more information, please fill in this section. Other sections of the waybill should be written by CPEL carriers. Please point out inconsistent information right away.